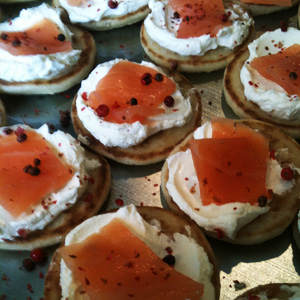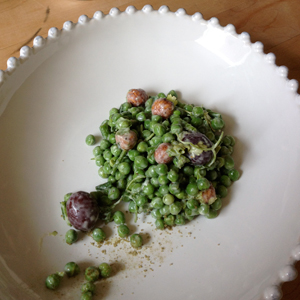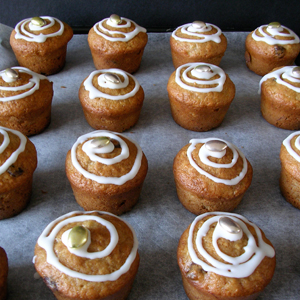 Sweet Pea Baking & Catering was founded in 2005 by Alisa Morov with a commitment to making fun, delicious food (she just loves people and parties).  We help realize the event of your dreams… create an ambiance, a memory, an experience… with the highest quality, beautifully creative food.
We take our food (and drinks) seriously. Working closely with our clients, creating culinary celebrations of all sizes: intimate get-togethers of 2, up to larger events of 99 … Picnics, Parties, Corporate Events, Cocktails/Aperitifs, Breakfast In Bed, Weddings, Birthdays, High-Tea, Brunch, Lunch, and Private Dinners, along with the occasional pop-up culinary themed parties, via The verySWELL Project.
With over 25 years experience in the kitchen, party planning and catering services, Sweet Pea Baking & Catering is inventive and full of unexpected flavors.  Our menus are designed uniquely for each event, with impeccable presentation.  Servers, bartenders and clean-up service are also available – enabling you to enjoy being a guest at your own party or celebration.
We also provide simple drop-off services, boxed-lunches, buffets, with or without staff, and full-course seated meals.
Come – Join the party!
How It ALL Happens:
After the initial phone consultation, Sweet Pea Baking & Catering will conduct an on-site walk-around to determine the specific needs of your event;  a Preliminary Proposal will be sent; then we will talk some more, determine the final menu, formulate a logistical plan and a contract.
Sweet Pea Baking & Catering's objective is to fulfill the wishes of our clients (that makes us happy), to make the most delicious food, to elicit a wow! with every bite.
For catering details and pricing or to ask any questions, send us an email.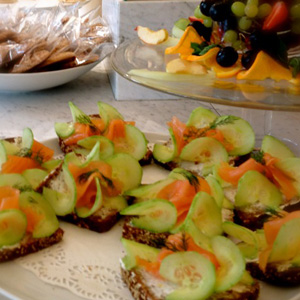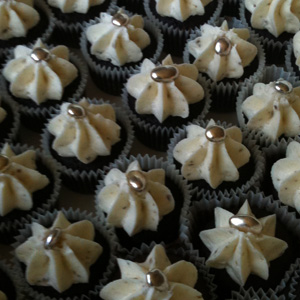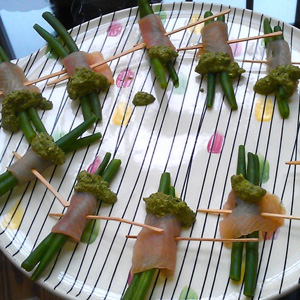 A taste of previous entertaining Menus & Themes:
Afternoon Tea, 40th Birthday Party – 30 people / Fête d'Anniversaire – 40 ans – Goûter 30 personnes
Grand Birthday Cake – 4-layer Chocolate Cake with Chocolate Mousse
Mini Cupcakes – Vanilla and Cardamome
Mini Fig-Almond Tartelettes
Lemon-Poppyseed Madeleines
Abundant Bowl of Cherries
Savory Fruit Skewers – Mango, Persimmon, Smoked Ham, Mint, Balsmic Reduction
Mini Herbed Savory Palmiers (Elephant Ear Biscuits)
Bite-Sized Savory Meringues – With 2 dipping sauces
Nyon Olive Savory/Sweet Biscuits
Champagne & Assorted Mariage Frères Teas
Grand Gateau d'Anniversaire – 4 etages-chocolat – Mousse au chocolat entre les étages              
Cupcakes Mini – Vanille et Cardamome
Tartelettes Figues Amandes Mini
Madeleines Citron-Pavot
Abondant bol de cerises      
Goûter – Amuse-Bouches  
Brochette de Fruits sucré/salé – Kaki, Mangue, Menthe, Jambon Fumé, Réduction de Sauce Balsamique
Mini Palmiers Salés
Biscuits aux Olives de Nyons Sucre/Sales
Champagne & Thé Mariage Frères, assortis
Intimate Dinner for Six / Dîner Intime pour six personnes
Champagne & Savory Meringue Nibbles
Carpaccio of Black Radish, Bellota Iberico Ham – Flowering Asian Scallions
Crispy Duck Medallions – Armagnac, Pear, with Green Peppercorns
Asparagus – Light Lemony Gastrique
Baby Greens Salad – Artisanal Cheese Plate
Cream of Mango Mousse, with Dark Chocolate Crisps
Wine Pairing
Champagne Apero – avec Meringues salé     
Carpaccio de Radis Noir, Bellota Jambon Ibérique – Fleurs des Ciboulette asiatique
Medaillons Croustillants de Canard – Armagnac, Poire, avec du Poivre Vert
Asperges – Beurre Blanc au Citron
Salade de Jeunes Pousses
Plateau de Fromage Affiné
Verines de Mousse à la Mangue, avec Langue de Chat Chocolat
Accords Mets Vins
A New York Brunch in Paris / Un Brunch New Yorkais à Paris  
Blink, rub your eyes (not too hard) stay in a dreamy Sunday haze… think Statue of Liberty, Eiffel Tower… high-rise apartments… Follow the wafting smells of coffee, bagels and New York Times ink into one of the best brunches that your wondering imagination can conjure – bespoke playlist…
Mimosas, Bloody Marys, Hot Chocolate, Deep Rich Coffee
Bagels – Lox, Cream Cheese, Red Onions & Tomatoes sliced ridiculously thin, Capers
Eggs Florentine – Hollandaise Sauce
Bacon
Cheese & Olives
Bread Basket – includes, Cheese Scones, Cornbread Mini-Muffins, Lime-Poppyseed Madeleines
Seasonal Fresh Fruit Salad
Greek Yogurt
REAL Coffee Cake
New York Cheesecake
Champagne Mimosas, Bloody Marys, Chocolat Chaud, le Meilleur Café
Bagels – Saumon fumé, Cream Cheese, Oignons rouges et Tomates en tranches ridiculeusement fine, Capres
Oeufs Florentine – Sauce Hollandaise
Bacon
Fromages & Olives
Panier de Pains – Scones au fromage, Mini-Muffins au Cornbread, Madeleines au Citron Vert & Pavot
Salade de Fruits de Saison
Yaourt Grec
Le Veritable Coffee Cake
New York Cheesecake
TEX-MEX Buffet Dinner for 60 / Dîner TEX-MEX pour 60 personnes
Champagne
Margaritas – Regular & Strawberry
Spiced Mixed Nuts
Home Made Tortilla Chips – 2 salsas
Guacamole
Mini Hamburgers – 3 sauces
Pigs-In-Blankets – Honey-Bourbon-Mustard sauce
Taquitos – Ancho Chili Sauce
Mixed Crudites – Creamy Tomatillo Sauce
Overflowing Bowls of Cherries
Feta, Pomegranate, Olive Oil Drizzle Plate
ChocoDiablo Mini Cookies – (chocolate, 2 pepper)
Champagne
Margaritas – Nature et Fraise
Mélange de noix épicées
Guacamole
Mini Hamburgers – 3 sauces
Pigs-In-Blankets (Mini-Roulés aux Saucisses) – Sauce Miel, Bourbon, Moutarde
Taquitos – Sauce Chili Ancho
Crudites Mixtes – Sauce Tomatillo
Bols de Cerrise Abondantes
Plateau Feta, Pulpe de Grenade, L'Huile d'Olive Filet
Biscuits Sucré "ChocoDiablo" – chocolate et 2 poivres
Madmen Cocktail Dinatoire – Authentic Food… Shrimp Cocktail, Rumaki, Cocktails… playlist, style and scandal
Cocktail Dinatoire Madmen – Cuisine Authentique… Cocktail de crevettes, Rumaki, Cocktails … playlist, style et scandale
Tea & Arsenic Lunch – Salacious Gossip – Tasty Canapés, Dangerous Tea Sandwiches, Yummy bites on skewers, Scones & Cakes, Cocktails, Tea… Not your average tea-time
Tea & Arsenic Lunch – Ragots Scandaleux – Canapés Savoureux, Mini-Sandwichs Dangereux, Bouchées Délicieuses sur des brochettes, Scones & Gâteaux, Cocktails, Thé… Ce n'est pas votre Tea-Time habituel
Very British Brunch – Bloody Good Food, Bloody Marys, Bloody Great Play List
Mad Hatter Tea Party – Teas, Cakes of all types & sizes, Savory Nibbles, Champagne, Life Size Tic-Tac-Toe/Knots & Crosses and Hats…
Tea Party Chapelier Fou – Thés, Gâteaux de toutes sortes & tailles, Grignotage Salé, Champagne, Morpion Grandeur Nature et Chapeaux…
Frida & Diego Mexican Dinner – Sultry, Engaging, Mysterious – Authentic Mexican Specialties i.e. Carnitas, Fish Tacos, Homemade Tortilla chips, Guacamole, Salsas, Flan… Margaritas
Dîner Mexicain Frida & Diego – Voluptueux, Engageant, Mystérieux – Spécialités Mexicaines Authentiques i.e. Carnitas, Tacos de Poisson, Chips de Tortillas, Guacamole & Salsas Maison, Flan, Margaritas
"Amelie"-Styled Wedding – Parisian Picnic Lunch – Luxurious French Picnic – Fois Gras, Langoustine Terrine, Olive Muffins (cake), Roasted Chicken, Salads, Artisan Cheese, Fruits (grapes optionally peeled), wines… all flowing from abundant baskets… Think Manet's "Le déjeuner sur l'herbe", you know… but, with clothes
Marriage "Amelie Poulain" – Dejeuner Pique-Nique Parisien – Pique-nique de Luxe Français – Foie Gras,Terrine de Langoustines, Cake aux Olives, Poulet rôti Maison, Salades, Fromages artisanaux, Fruits (raisins pelés en option), Vins… Tout cela dans des paniers en abondance… Pensez "Le déjeuner sur l'herbe" de Manet… mais, avec des vêtements, évidemment